About the Train
Essex Steam Train & Riverboat's 2 1/2-hour journey begins at the historic 1892 Essex Station for a 12-mile, narrated round-trip into the heart of the unspoiled Connecticut River Valley.  The steam locomotive pulls vintage coaches through the quintessential New England towns of Deep River and Chester. A natural highlight is the undeveloped Selden Neck State Park, accessible only by boat.  Essex Steam Train offers unique access to several coves and preserves, immersing passengers in an on-board eco-excursion. The train travels near the tidal wetlands of Pratt Cove and Chester Creek — bountiful, natural habitats for birds including Cormorants, Ducks, Swans, Greenland Geese, Blue Heron, Egrets, and Red-winged Blackbirds.  In February and March, the majestic Bald Eagle is the star of the show when it migrates south to the Connecticut River Valley from Canada and Maine.
About the Riverboat
At Deep River Landing, passengers are escorted onto the Becky Thatcher riverboat for a 11/4– hour cruise along the Connecticut River. The visual serenity of the river valley is on full display from Becky's multiple decks. The deep water, coves, inlets, marshes, wildlife, and rocky shoreline are, all at once, simply breathtaking!
Just as impressive are the historic sites, including Gillette Castle, Goodspeed Opera House and the Haddam Swing Bridge. Upon Becky's return to Deep River Landing, the steam train welcomes passengers for the return trip back to Essex Station.
Train & Riverboat is the product name for both the Train Excursion and the Train & Riverboat Combination Excursion; when purchasing tickets please choose the option you would like:
For 1 Hour Train Ride: Make sure Train only is checked
For 2.5 Hour Train & Boat Ride: Make sure Train & Boat is checked
First Class Car- Great Republic
First class 1920s Style
Cushioned, individual swivel seats
Beverage Service Available
$12.50 Extra Per Person
Open Air Car- Riverview
(June 15 – September 22)
First and Last Car on the Train
Behind the Locomotive half of trip
Unobstructed sights and sounds
More air flow
Wooden Bench Seats
$7.50 Extra Per Person
Coach Class Cars
Flip-back (directional) coach seating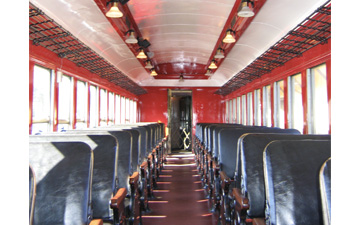 Pennsylvania Railroad Caboose
"Ralph Gibson"
Narration of the History of the Caboose & Life on the Rails
$5 Extra (Donated to the Friends of the Valley Railroad Volunteer Organization)
Caboose rides are available select weekends.
Please visit the Caboose page to learn more.