SUMMER AT THE MUSEUM PROMOTION
Please read entire paragraph of information on this promotion.
Good for 1 child (under age of 18) and 1 adult for the 1-hour Train Excursion COACH SEATING  (USE DISCOUNT CODE: 2022 Museum Train) OR the 2.5 hour Train & Boat Excursion COACH SEATING (USE DISCOUNT CODE: 2022 Museum Boat) on Monday, Thursday or Fridays through September 5.  This promotion is NOT VALID for Saturday & Sunday Excursions.
Must be Connecticut residents and is limited to one promotion per family (household). Child and adult must check in at Essex Station Ticket Window on day of excursion with the adult showing a valid CT Id. Not valid for other excursions or group reservations. Not valid for First Class or 2 Adults. Reservations made for First Class Seating with the promotion discount code will be CANCELED. Reservations made using the discount code for two people over the age of 18 will be CANCELED. Reservation for this promotion can be made at www.essexsteamtrain.com under Train & Boat. After selecting a valid date and then departure time from the drop down menu and adding the total number of tickets of your reservation to your cart, click Check Out and enter the correct Discount Code from above in the Gift Card/ Discount Code Box.  You may also purchase on a first come first serve basis on the day of at the Essex Station Ticket Window or call 800-377-3987 for more information. A maximum number of promotions will be accepted for each of the valid operating days. Dates that have reached capacity and will no longer accept the promotion codes are: Monday July 4, 2022.
2022 Schedule
June 30- August 29: Thursday through Mondays (Closed Tuesday & Wednesday)

SPECIAL LUNCH TRAIN & RIVERBOAT EXCURSION: July 29 & August 8
September 2 – September 26: Friday through Monday (Closed Tuesday, Wednesday & Thursdays)
September 29 – October 24: Thursday through Mondays (Closed Tuesday & Wednesday)
Caboose Weekends: July 2 & 3, August 6 & 7, September 3 & 4, October 1 & 2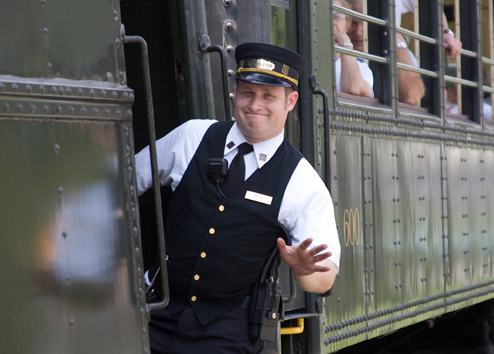 2022 Fares
Steam Train &  Riverboat Combination Coach Seating
$40.00
Steam Train &  Riverboat Combination First Class Seating
$55.00
Steam Train Only Coach Seating
$25.00
Special Lunch Train & Riverboat Excursion: July 29 & August 8 Only
$69.99
Steam Train & Riverboat Combination Caboose Seating (available select weekends only)
$45.00
Steam Train Only Caboose Seating (available select weekends only)
$30.00
Important Info
Reservations are non-refundable, but fully transferable ($10.00 per ticket transfer charge applies) with 48-hours notice. Tickets are non-refundable and non-transferable for late arriving guests and no show guests .
 No alcoholic beverages may be brought onto the property or aboard the train or boat. Limited food and beverages will be available for purchase on board the Riverboat.
Reservations and payment are required.
The Valley Railroad reserves the right to alter equipment and schedule. This event does operate in all weather